Rafat S. Razi D.M.D., M.P.H.
Specialist in Pediatric Dentistry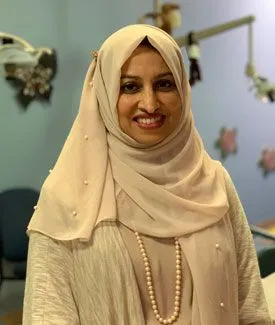 Office:
State-of-the-Art Office
Digital Radiography
Nitrous Oxide
Pediatric Oral Conscious Sedation
"Our team is well-trained to treat the dental needs of infants, children and adolescents in a caring, nurturing, environment."
Education:
D.M.D., Doctor of Dental Medicine: Harvard School of Dental Medicine
M.P.H., Master's in Public Health: Harvard School of Public Health
Specialty in Pediatric Dentistry:
University of Rochester's Eastman Dental Center in upstate New York
Experience:
Over 20 years as a Pediatric Dentist.
Assistant Clinical Professor in Pediatric Dentistry: Columbia University in New York City. Throughout her education, training, and faculty position, Dr. Razi has researched many dental topics and has publications in scientific journals.
Private practices: West Palm Beach, FL; Manteca, CA; Faculty practice in New York City.
Memberships:
American Academy of Pediatric Dentistry
American Dental Association
California Dental Association
San Joaquin Dental Society: past Board Member
Personal:
Married to Urologist, Dr. Salman Razi(Tracy office: 209-833-3449) and enjoy time with their two children. "We are active in the community, providing health care and education at many levels including Children's Health fairs, Give Kids a Smile Day, Children's Dental Health Education at schools."
---